On The Lake – A WINE CRUISE THAT'S PERSONAL
A cruise on the lake is the quintessential Tahoe experience, but how you choose to set sail determines the magnitude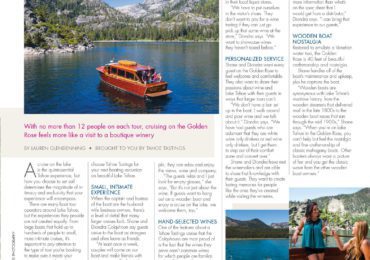 of in­timacy and exclusivity that your experience will encompass. There are many boat tour operators around Lake Tahoe, but the experiences they provide are not created equally. From large boats that hold up to hundreds of people to small, more intimate cruises, it's important to pay attention to the type of tour you're booking to make sure it meets your expectations and needs.
For those looking to experience California wine country while on the water, and perhaps even meet a few friends along the way, here are a few reasons to choose Tahoe Tastings for your next boating excursion on beautiful Lake Tahoe.
SMALL, INTIMATE EXPERIENCE
When the captain and hostess of the boat are the husband-­wife business owners, there's a level of detail that many larger cruises lack. Shane and Diondra Colquhoun say guests arrive at the boat as strangers and often leave as friends. "At least once a week, couples will come on our boat and make friends with total strangers. By the end of the two-hour cruise, they have made post-cruise lunch or dinner plans with their new friends," Diondra says. As people gather on the boat, which holds up to 16 people, they can relax and enjoy the views, wine and company. "The guests relax and I just look for empty glasses, she says. But it's not just about the wine. If guests want to hang out on a wooden boat and enjoy a cruise on the lake, we welcome them, too.
HAND-SELECTED WINES
One of the features about a Tahoe Tastings cruise that the Colquhouns are most proud of is the that that the wines they serve aren't common wines for which people are familiar. In the offseason, Shane and Diondra visit small, boutique wineries in Northern California and hand-select the wines they want to serve their guests. They try to stay away from serving mainstream Napa and Sonoma wines that people can find in their local liquor stores. 'We have to put ourselves in the visitor's shoes. They don't want to pay for a wine tasting if they can just go pick up that same wine at the store," Diondra says. "We want to showcase wines they haven't tasted before."
PERSONALIZED SERVICE
Shane and Diondra want every guest on the Golden Rose to feel welcome and comfortable. They also want to share their passions about wine and Lake Tahoe with their guests in ways the larger tours can't. "We don't have a bar set up in the boat. I walk around and pour wine and we talk about it,' Diondra says. 'We have had guests who are adamant that they are white wine only drinkers or red wine only drinkers, but I get them to step out of their comfort zone and convert over." Shane and Diondra have met the winemakers and are able to share that knowledge with their guests. They want to create lasting memories for people like the ones they've created while visiting the wineries. We end up knowing a lot more information than what is on the spec sheet that we would get from a distributor," Diondra says. I can bring that experience to our guests.
WOODEN BOAT NOSTALGIA
Restored to emulate a Venetian water taxi, the Golden Rose is 40 feet of beautiful craftsmanship and nostalgia. Shane handles all of the boat's maintenance and upkeep, plus he captains the boat. Wooden boats are synonymous with Lake Tahoe's maritime history, from the wooden steamers that delivered mail in the late l800's to the wooden boat races that ran through the mid-1900s," Shane says. "When you're on Lake Tahoe in the Golden Rose, you can't help but feel the nostalgia and fine craftsmanship of classic mahogany boats. Other boaters always want a picture of her and you get the classic wave from the other wooden boat owners too.