A History of Golden Rose Motor Yacht
Riva, Gar Wood, Chris Craft, Hacker Craft and Ditchburns have all created timeless wooden boats. Wooden boats are a classic piece of Lake Tahoe's history. From the boat races of yesteryear between Henry J. Kaiser and Stanley Dollar Jr., to the exceptional craftsmanship of the historic Thunderbird yacht built in 1939, Lake Tahoe is synonymous with wooden boats. Each boat is iconic in its own right and the Golden Rose is no exception.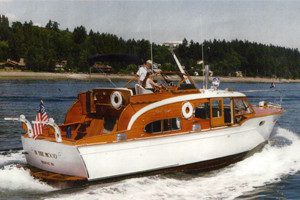 The Golden Rose was built in 1953 as a Chris Craft Double Cabin Fly Bridge Cruiser and was originally named "In the Mood". In December of 1996, a blizzard hit the Pacific Northwest and pummeled the Puget Sound marinas. The snow collapsed several roofs of the marina boat docks, damaging hundreds of boats, sinking over 300, one of which was In The Mood. She was partially sunk and heavily damaged, she was taken to a boat yard to be scrapped.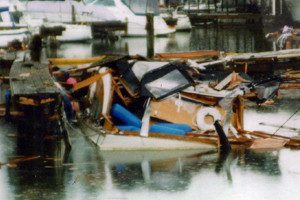 Terry Buzzard, the owner of Island Mariner Cruises, the first whale watching tour company in Bellingham, Washington, saw her in the boatyard and instead of allowing this beautiful Chris Craft to be scrapped, he decided to recreate her as a Venetian Water Taxi. He stripped her down to the hull, sanded, refinished the original mahogany, added Yellow Alaskan Cedar, Ironbark from Australia, Pernambuco wood from Brazil and meticulously rebuilt each part by hand with his friends at Glen Cove Boatworks. The original gas engines were replaced with two Caterpillar 3208 diesel engines. Her large windows have a rose etched in the glass at each corner. All of the original chrome pieces were plated in 24 karat gold, which is where she gets her name, Golden Rose. The boat is such a fine piece of workmanship that Christopher Columbus Smith III (3rd generation Chris Craft), commented after riding in it, that he wished the company had made such a beautiful boat themselves.
The current owners of the Golden Rose, Shane and Diondra Colquhoun, had her shipped from Bellingham, Washington to her new home in South Lake Tahoe, California to use as a commercial tour boat so everyone can experience the beauty and allure of Lake Tahoe from a one-of-a-kind Chris Craft Venetian Water Taxi.
Boat Facts: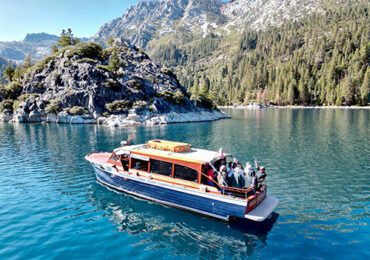 Cruise 6 knots, top speed 12 knots
Icom VHF, Furuno plotter and radar
Two 230 gallon fuel tanks
Full engine room fire system
Aluminum reinforced stringers/frames
Mahogany, Yellow Alaskan Cedar, Ironbark and Pernambuco woods were used
Deck fittings are 24 karat gold plated
342 sheets of 24 karat gold leaf were used just in the vessel name and design on the stern of the boat
USCG licensed for 28 passengers, plus crew (for passenger comfort we do not put this many guests on the boat)
22 man life float with signal light and beacon
Photos of Golden Rose on Lake Tahoe